5 Beauty Products TikTok Made Me Buy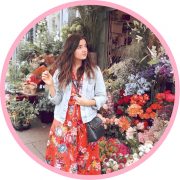 "TikTok made me buy it" has become a popular justification for random purchases nowadays. And I can totally relate.
From the "10 Amazon must-haves" videos that dominate my FYP (for you page for those of you not in the know), to mini beauty hauls featuring items you may never have heard of if not for TikTok, it's fair to say TikTok is responsible for some impulse buys.
With that in mind, some of the products and purchases made on a whim have turned out to be some of my fave beauty products and tools. So, without further adieu, here are some of my favourite beauty products that TikTok made me buy!
5 Beauty Products TikTok Made Me Buy

via GIPHY
Accurate representation of throwing money at things TikTok recommends…
CeraVe Hydrating Cleanser


SHOP NOW

CeraVe has become a cult favourite thanks to TikTok. So much so, that it took a few weeks of trying to get my hands on their Hydrating cleanser. Alas, I succeeded in my quest, and am now a fan of the CeraVe Hydrating cleanser and lotion!
CeraVe offers a range of cleansers to suit your skin type so definitely check them out! If you can find them in stock!
Magic Makeup Brush


SHOP NOW

Anything with the word 'magic' in the title is usually a let down, however the magic makeup brush is something I'm very happy TikTok made me buy. It's unbelievably soft! I don't know what it is about the design, the fact it doesn't have a long handle like traditional brushes or it's densely packed bristles, but it blends makeup seamlessly into the skin. I was very skeptical at first but after the first use was amazed at the effect!
The Ordinary Skincare


SHOP NOW

I had used a few bits from The Ordinary a while back. However, TikTok made me rekindle my love for the brand. The products are simple yet effective, and are reasonably priced compared to some other brands. Similarly to CeraVe, The Ordinary has become somewhat of a cult beauty brand on TikTok. Their AHA 30% + BHA 2% Peeling Solution is nearly always sold out so I'm yet to get my hands on it. However, I'm a big fan of their Squalane Cleanser, Hyaluronic Acid and Retinol.
Juno & Co. Microfiber Velvet Sponge


SHOP NOW

I'm a big fan of a sponge applicator for the likes of concealer. BeautyBlender is my usual go-to, but when I saw this velvet sponge pop up on my FYP I was intrigued.
I was pleasantly surprised by the results. It blends my concealer in nicely and I've noticed a lot less 'caking' throughout the day!
I purchased the blue sponge, but they come in a few cute colours!
e.l.f Lip Exfoliator


SHOP NOW

Lip exfoliators might not be top of your beauty regime priority list, but once you use one you'll be wondering why it's taken so long! Lip exfoliators usually come in a small pot and cause quite the mess whilst using. This one comes in a traditional bullet shape like a regular lipstick, so super convenient!
Have you been influenced to buy any beauty products because of TikTok? Let us know what beauty products TikTok made you buy!