5 Drugstore Mascaras That Celebrities Swear By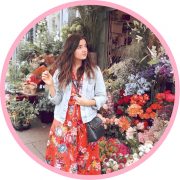 Mascara can be a tricky one to get right. Finding the exact consistency, as well as mascara wand that works for you can take some time. We've rounded up the 5 drugstore mascaras that celebrities (and their makeup artists) swear by! Celebrity approval and an affordable price range? What's not to love?
Check out the 5 Drugstore Mascaras That Celebrities Swear By:
Kim Kardashian: L'Oreal Paris' Voluminous Mascara in Carbon Black

The mascara that Kim Kardashian called the 'perfect shade of black' is worth a try, right? Both Kim and her celeb makeup artist Mario Dedivanovic swear by L'Oréal's Voluminous Mascara.
Meghan Markle: Maybelline Lash Sensational Luscious Mascara

If it's good enough for royalty… Lydia Sellers, Meghans former makeup artist used to use Maybelline's Lash Sensational Luscious Mascara on Megan all the time apparently! Megan is the one who told Lydia about it in the first place. The celebrity makeup artist liked it so much she kept using it.
Khloe Kardashian: Maybelline The Falsies Volum' Express Mascara

Another Kardashian who is into her drugstore mascaras is Khloe. Joyce Bonelli, Khloe's Makeup artist uses Maybelline's ever popular 'the falsies' mascara (the volum' express variety) on Khloe.
Beyoncé: L'Oreal Paris Paradise Mascara

If Queen Bey is using it then it is most certainly worth a try! Sir John, Beyoncé's makeup artist told Refinery 29 that he uses L'Oreal Paris' Paradise Mascara on her. She even wore it for that performance at Coachella, so we can say it defo holds up!
Gigi Hadid: Maybelline The Falsies Push Up Angel Mascara

Gigi not only wears drugstore foundation, but she's also a fan of drugstore mascara. So much so that she even wore Maybelline's The Falsies Push Up Angel Mascara to the MET Gala!
Will you be trying any of these mascaras? Let us know!