5 Reasons To Watch Netflix's Selling Sunset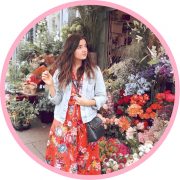 Netflix's Selling Sunset returned to our TV screens last Friday, and I will happily admit I had all 8 episodes watched in less than 24 hours!
You've probably heard a lot about the hit show, but if you're still humming and hawing about committing to watch 3 seasons, here are 5 reasons you NEED to watch Netflix's Selling Sunset!
Why Selling Sunset Will Be Your New Fav Show!
It's Great For Having A Nose Around Houses
Ok, so technically it's a virtual nosey about a house but it's probably the closest we'll get to an inside peak at mansions in the Hollywood Hills! And boy are these mansions extravagant! From outdoor TV's that pop out of the ground at the flick of a switch, to huge swimming pools, these houses scream luxury!

via GIPHY
It's Like 'The Hills' Meets 'A Place in The Sun'
Netflix have near done the impossible in managing to create a reality (we use that term lightly) show that combines two very different shows, but it just works! All the drama of MTV's hit show The Hills is combined with the house-hunting in sunnier climes often seen in A Place In The Sun.
The Drama
Selling Sunset is loaded with drama! You're probably thinking 'how is a show about selling houses in LA drama-filled?' but let me tell you, the drama is intense! If you're missing the likes of Love Island this summer, Selling Sunset will fill that void tenfold. The show follows the lives of realtors at The Oppenheim Group, a luxury real estate agency on Sunset Boulevard. The gals who work in the office aren't afraid of confrontation or telling it how it is.This leads to many a "grab the popcorn and sit back" moment!

via GIPHY
The 'Extra-ness'
Selling Sunset's cast are extra AF, and we are here for it! From lavish outfits perfectly accessorised to a tee, to intricate hairstyles that must take hours of prep these gals do extra like no other. Especially Christine Quinn!
The Gals Are Pretty Badass!
Whilst there are a lot of more frivolous reasons to binge-watch Netflix's Selling Sunset, the truth of the matter is the show shows some incredible women owning the real-estate game. From schmoozing clients, to their commitment to getting that sale, the cast of Selling Sunset are pretty badass!
Have you watched Selling Sunset? What did you think?