All Of Our Favourite Looks From The 2020 VMAs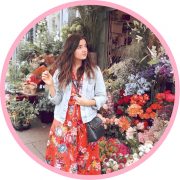 Award shows have been very different in 2020 thanks to COVID-19. This year's MTV VMAs, however, added a little bit of normality as celebrities took to the (socially distanced) red carpet for one of the first times in what feels like forever!
Naturally, we had to put together some of our favourite looks from the night!
Here are some of our favourite looks from the 2020 VMAs
Miley Cyrus
Miley Cyrus showed up on the red (well, grey) carpet wearing a show-stopping Mugler dress. It might not be to everyone's taste, but you have to admit, Miley is rocking this look!
Joey King
Bury me in this Versace dress. That is all.
Ok, it's not all, but seriously, how fab is this dress? Joey King knows how to accessorise! From the chunky gold layered necklaces to the gold hair clips *chefs kiss.*
I do question the appropriateness of the outfit for an event like the VMAs but anywhere else this dress whole 60's vibe is beyond fab!
Jaden Smith
Jaden Smith went for a laid back look for this year's VMAs, and boy is it working for him! That jacket is a piece of art! The similar colour palette hints in his sneakers really tie the whole look together! Definitely a favourite from this year's VMA red carpet!
Lady Gaga
If anyone can serve a red carpet look in the middle of a pandemic it's Lady Gaga. Not only did she wear what appears to be a fish bowl on her head on the red carpet (which we don't recommend as a proper face covering), but her multiple costume changes during the award ceremony also featured many a face mask! Head to our Instagram to see!
This look by Area is very Gaga, and whilst we don't know how she walks on those heels, we're here for it!
Bella Hadid
Bella's nod to the 90s and early 00s is evident in this look. Whilst I can appreciate the theory behind the look, I'm not 100% on the execution. However, as someone who didn't get to fully embrace 90s and 00s fashion back in the day, (my mam dressing me in questionable dungarees doesn't really count), I'm kinda excited to see the trends and hairstyles come back. If it's good enough for Bella…
Sofia Carson
Sofia Carson went all out in this Giambattista Valli floor length gown. Like Joey King's outfit, I'm not sure of the appropriateness of this outfit on the VMA red carpet. However, this time for the opposite reason. This dress is very Golden Globes, IMO. But there's no denying Sofia looks amazing. And look, 2020 didn't give us many reasons to dress up, so if that's what she wants to do first chance she gets, can we blame her?
Madison Beer
Madison in Mugler is again very 90s and early 00s vibes, and we are here for it! Also, kind of obsessed with the arm length gloves? Very Morticia Addams!
Keke Palmer
We couldn't mention our favourite looks without mentioning the host herself, Keke Palmer! This dress is so cute, and the colour is gorgeous! Also, that bow detailing? Amazing!
Do you like our favourite looks from the 2020 VMAs? What were some of your favourite looks from this year's VMAs?