Our Favourite Looks From The Met Gala in Recent Years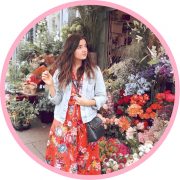 It's the first Monday of May which means it should be Met Gala Monday. Unfortunately, the event has been postponed due to the Coronavirus. Whilst we're sad to be missing out on all the glitz and glam that the Met Gala offers, we understand it's for the greater good. Instead, we're choosing to take a look back at some of the most iconic looks to grace the Met Gala red carpet over recent years.
Here are some of our favourite looks from the Met Gala:
Lily Collins
Lily went all out for the "Camp: Notes on Fashion" theme of the 2019 Met Gala. She channeled Priscila Presley on her wedding day to the King of Rock, Elvis. Her dress is Giambattista Valli Haute Couture, but tbh it was her makeup that sold us on this look.
Lady Gaga
Lady Gaga had not one but 4 looks for 2019's Met Gala, transforming her look as she walked along the red carpet.
Rihanna
Rihanna's 2018 Met Gala look was fab! Taking the theme of  "Heavenly Bodies: Fashion and the Catholic Imagination" to the next level in this Margiela Gown.
Blake Lively
That same year, Blake Lively gave Rihanna a run for her money in this gorgeous Christian Louboutin gown. Just look at those accessories!
Gigi Hadid
Gigi has had many an iconic Met Gala look, but this Donatella Versace gown is most definitely our favourite. The simple way she styled her hair was the cherry on top for us. Effortlessly chic!
Kylie & Kendall Jenner
The Jenner/Kardashian clan are known for making a statement on the red carpet of the Met Gala, but for us the most iconic look was served by Kendall and Kylie at last year's gala. The two wore matching Versace dresses donned with glitz and feathers, what more did we expect?
Billy Porter
Not only was Billy Porter carried into the 2019 Met Gala à la Cleopatra, but his outfit featured wings! I mean, need we say more? The custom "Sun God" outfit was designed by The Blonds and featured a blinged out catsuit, 24 karat-gold headpiece, and did the mention wings?! Obsessed!
Cardi B
That same year saw Cardi B show up in a gigantic Thom Browne gown. Luckily for Cardi the red carpet last year was pink, or she would've blended right in!
Lupita Nyong'o
Lupita channeled French Queen Marie Antoneitte in this colourful Versace number at the 2019 Met Gala and to say we were blown away by the creation would be an understatement. However, it was Lupita's overall look (have you seen that eye makeup?!) that truly made this a favourite from the Met Gala in recent years.
Lili Reinhart & Cole Sprouse
Another duo whose look we loved was Lili Reinhart and Cole Sprouse. The are-they-aren't-they-a-couple couple showed up to the red carpet of the 2019 Met Gala looking quirky and coordinated!
Zendaya
Zendaya and her stylist Law Roach went extra AF for the 2019 Met Gala and we were enchanted (see what we did there?) with this Cinderella themed look. The Tommy Hilfiger creation even lit up, I mean, wow!
Saoirse Ronan
Our very own Saorise Ronan channeled major Khaleesi vibes in this Gucci gown featuring some amazing colourful sparkle!
Ariana Grande
Ariana Grande really went all out on the theme of 'Catholic Imagination' for the 2018 Met Gala. Her iconic Vera Wang dress featured paintings from the Sistine Chapel. She put her Ariana spin on it by wearing a giant bow.
Janelle Monáe
Janelle collaborated with Christian Siriano for her 2019 Met Gala look. This is definitely one of the most iconic looks we've seen at the Met Gala, and definitely the most hats worn by one person.
Beyoncé
We're heading all the way back to 2015 for this iconic Met Gala look from Beyoncé. In a barely there dress designed by Dana Oliver, Beyonce shone in this sparkly number.
Elle Fanning
Elle Fanning stole the show for the most fun look at the 2019 Met Gala. Elle was a real life Malibu Barbie in a fab creation designed by Jonathan Anderson.
Taylor Swift
Taylor has served some amazing looks at the Met Gala in recent years, but 2014's Oscar de la Renta gown was quintessentially Taylor Swift (check out her signature red lip). The back detail on this gown is just to die for.
Harry Styles
Harry Styles took to the pink carpet of the 2019 Met Gala in a fabulous sheer Gucci creation. The now iconic blouse was paired with a chunky pair of mens heels and tailored black trousers. Harry also donned a pearl earring and some funky nail polish.
Awkwafina
The 2019 Met Gala saw Awkwafina in a Joseph Altuzarra gold dress that turned heads. We're obsessed with this look, from the gold eye makeup and the subtle red lip to her black bucket style bag.
Dua Lipa
Dua Lipa made her Met Gala debut last year in a plunging Versace gown. Everything about this look screams Dua's personal style, and it really is one of the most iconic Met Gala looks.
What are some of your favourite looks from the Met Gala?
Image(s) Credit: Getty Images