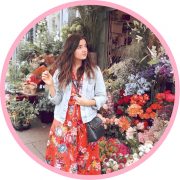 Aimée has recently released her debut EP Confession which features her hit single 'What My Mamma Gave Me.' We spoke to the Irish pop sensation about all things music. From her creative process to advice she'd give teens hoping to pursue a career in music, we covered it all!
Check out our 5 minutes with Aimée…
How did you get into music?
It just happened naturally because I knew since I was a little girl that I wanted to be a singer. From the age of 15 I was constantly trying to figure out ways to break into the industry. I started by uploading videos to YouTube.
What other artists/bands inspire you?
So many for different reasons. From Christina Aguilera & Britney to Ariana Grande and Demi Lovato.
What's your creative process like when it comes to lyrics, music, videos etc?
Normally when I'm writing a song, I visualize everything that comes with it. Like what would the music video look like, what would be the artwork etc. It all needs to fit like a package.
What's your favourite song that you have written? Why is it your favourite?
So hard to choose – But maybe "I'm Ok" because it was a brave move for me to open up like that lyrically.
What advice would you give to teens in Ireland hoping to pursue a career in music?
Do what you love. Don't let anybody tell you how you should look or sound. Only you can
decide that.
You're a very busy person, what do you do to unwind?
I love to paint. Or to walk on the beach.
What's your favourite type of music? If we were to look at your heavy rotation mix,
what artists would we find?
Pop or RNB would be my top. I listen to different people depending on my mood. I'm
listening to a lot of H.E.R right now, she is one of my favourite artists to listen to when I need to unwind or relax.
Music wise, what's in store for the rest 2020?
Hopefully lots of shows and touring! I have a very busy year ahead of me so I'm hoping
things go back to normal soon, so nothing gets cancelled! I'm playing Whelan's in Dublin on the 7th October and there's are still a few tickets available.
Follow Aimée on
AiméeMusicOfficial.com // Instagram // Facebook // Twitter // Youtube // Spotify
See Also
You can download Confession here.
Watch the video for 'What My Mamma Gave Me' below:
Check out more Missy.ie interviews here!