Missy Exclusive: 5 Minutes With…Jayden Bartels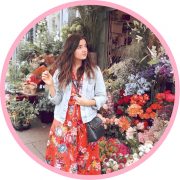 Jayden Bartels may only be 15 years-old, but she's already had quite the career. Jayden began to dance and act at just 9 years old. And now she sings, acts, dances and has a Youtube channel.
And to top all that off, she just had a starring role in Taylor Swift's new music video for "The Man".
Missy.ie sat down for an exclusive chat with Jayden were we got the lowdown on her career, school, inspiration and collab with Missy favourites, Max and Harvey.
Your song, 'Electric' with Max and Harvey is great! How did you get into music?​
Thank you! I started singing when I was 8 at musical theater class, but I started writing and releasing music about 2 years ago!
We've chatted to Max and Harvey before, how did you get on with the guys?
I love Max and Harvey so much and we get along really well! It's always so much fun to work with them because they make me laugh non stop!
just uploaded a new YouTube vid 🙂

A post shared by Jayden Bartels (@jaydenbartels) on
You sing, you dance, you act, you have your own Youtube channel… how do you balance everything?
Sometimes it's hard to balance everything but I try to do equal amounts of work, school, and social life everyday so it doesn't feel unbalanced.
If you could only pursue one of the above for the rest of your life, which would you pick?
If I could only do one thing out of dancing, acting, and singing it would definitely be singing because I feel like I can express myself the most through music.
🌍dream vacation? mine is bora bora☆

A post shared by Jayden Bartels (@jaydenbartels) on
What is your creative process like?
My creative process for writing music changes with every song but usually something will happen to me and if it has a deep enough impact on my life I'll sit down with an instrument and write down how I feel about it.
What's your favourite type of music? If we were to look at your 'heavy rotation' mix, what artists would we find?
My favorite type of music to listen to is indie and alternative pop but I also love 70's and 80's music. Some of my favorite artists include Billie Eillish, Clairo, mxmtoon, and Stevie Wonder!
Who inspires you in the music industry?
Some of my musical inspirations are Billie Eilish and Grace Vanderwaal.
Gameboy music vid and song out now👾 click the link in my bio

A post shared by Jayden Bartels (@jaydenbartels) on
What is your favourite type of content to create?
My favorite type of content to create is anything music related. It could be covers, writing, or just listening to new music my fans suggest.
What's your number one tip or piece of advice for back to school?
My number one piece or advice for back to school is to not judge anyone by what they look like and try to make friends with people you normally wouldn't.
What advice would you give to someone hoping to pursue a music career?
Advice I would give to someone hoping to pursue a music career is to be yourself and don't let anyone's opinion change how you sing or write

You can keep up Jayden Bartels by following her on 
Instagram
.
Related Story