#GirlsInSTEM: Andrea Gonzales Talks Girl Code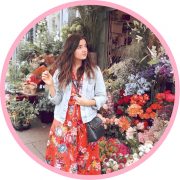 In the latest part of our #GirlsInSTEM series we chatted to Andrea Gonzales who wrote Girl Code: Gaming, Going Viral, and Getting It Done with her friend Sophie Houser. Girl Code is the story of two teenage tech phenoms who met at Girls Who Code summer camp, teamed up to create a viral video game, and ended up becoming world famous.
Andrea is a classically trained pianist, but when she discovered coding her life took a different turn. We spoke to her about her early desires to become an engineer, the challenges she faced being a woman in tech, and how Tampon Run has helped to destigmatise periods.
You have previously said your parents wanted you to be a doctor, lawyer or engineer. What made you choose engineer?
When I was younger, I really admired this character in an old animated movie called Atlantis: The Lost Empire, named Audrey. She was this young, fiery, talented, and driven mechanic…I wanted to be just like her! I also liked video games, and my sisters had already called dibs on doctor and lawyer. I made the "decision" to be an engineer when I was around 5…so the choice to become an engineer was for several reasons that really only a kid would find motivating.
Were you and your parents aware before you decided to be an engineer that there was a gender gap in the STEM career paths?
Yes. I had never experienced it for myself before, and wouldn't really experience it for a while, but I had a strong tomboy identity, so I felt that it wouldn't be that hard for me because I was already so "boyish."
If so, did this cause you to rethink your choice at any time or drive you to prove girls can do anything boys can do?
I'm a bit competitive, which both drives me to prove people wrong and raises the stakes of failure. I never liked the idea of not being able to do something, and especially not being able to do something because of my gender. It seemed like a challenge—a very daunting one, of course—but one that I was willing to take on.
Andrea Gonzales and Sophie Houser.
Why did you apply for Girls Who Code?
I had already been coding for a few summers at a co-ed summer camp, and while I loved my time at that camp, I wanted a change. Girls Who Code is more than just a 101 course in computer science, it offers an incredibly supportive network and a foothold into a number of tech companies and connections. I also wanted to see how I would change as a programmer if I were surrounded by women. In some ways, Girls Who Code was more daunting to me than the co-ed, since I was such a tomboy and was intimidated by the idea of hanging with only women for nine hours a day. But honestly, it was because I had become accustomed to the idea of being surrounded by men. I'm glad I made the decision to apply!
We know your game Tampon Run was created to help deal with the stigmatisation of periods, how has the reaction to that been?
For the most part, it's been incredibly positive. Even for me, when I first released Tampon Run, I still felt uncomfortable talking about my own period and about periods in general. After Tampon Run went viral, I had to adapt quickly, to say the least. People of all ages have played with the game, from parents who want to show the game to their kids, to middle school students who have started educating each other about the stigma surrounding menstruation. The message is that menstruation is a natural bodily function that young children should know about from an early age and without shame. Of course, there have been trolls and people who don't get that, but Sophie and I have taken critique in stride; it's made us stronger and more driven. Tampon Run has made lasting impact beyond our wildest dreams, and at the end of the day, we're proud of that.
What advice would you give our readers if they want to get into coding or any STEM career?
Persevere! I've said this from the beginning and I'll keep saying it. Going into STEM and coding is hard, period. Going into STEM and coding as a woman or other marginalized gender is even harder. But if you're doing what you love, it's incredibly rewarding, even if it is challenging. It will take a little more effort but find those other women in your STEM communities. Become an advocate for other women who haven't taken the leap. You'd be surprised how just being in STEM as a woman can encourage others to join you.
Can you recommend any online resources for those who might not have a class or camp close by?
For sure! Codecademy, Khan Academy, and Code.org are great places to start when learning to code. There are countless other online resources to get started; all you need is a computer and an internet connection.
How did you find putting your book Girl Code together? Did you enjoy the writing process?
We had a very short amount of time to write the book, and at the time I was finishing my senior year of high school. There were times where I'd be with friends but sit in a corner of their apartment editing a chapter or responding to my editor. I spent most of my school breaks with Sophie working on the book. I felt very exposed – it was tough talking about my life, knowing people I knew would read it…especially my parents. It was definitely a challenging time and it took a toll on me mentally, emotionally, and academically, but I wouldn't trade it for the world. I never had so much time dedicated to thinking about my life, how I've changed, and how to articulate it all in writing. I grew so much as a writer and a thinker, and it was amazing to see that two years of work on Tampon Run manifested in a real, physical book. I cried when I got my first copy! And of course I'm so lucky to have gotten the chance to reach more young women by sharing my story in Girl Code. It was an incredible experience.
Girl Code: Gaming, Going Viral, and Getting It Done is available now!