The Best YA Books Being Released This April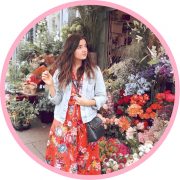 A new month means new books! We're big book lovers here at Missy so it makes perfect sense for us to want to keep up to date with the newest releases.
Here are the best YA books being released this April that we think you'll really love:
So This is Love (Disney Twisted Tales)
by Elizabeth Lim


SHOP NOW

Release Date: April 7th, 2020
What if Cinderella never tried on the glass slipper? Unable to prove that she's the missing princess, and unable to bear life under Lady Tremaine any longer, Cinderella attempts a fresh start, looking for work at the palace as a seamstress. But when the Grand Duke appoints her to serve under the king's visiting sister, Cinderella becomes witness to a grand conspiracy to take the king-and the prince-out of power, as well as a longstanding prejudice against fairies, including Cinderella's own Fairy Godmother. Faced with questions of love and loyalty to the kingdom, Cinderella must find a way to stop the villains of past and present . . . before it's too late.
 
Good Girl, Bad Blood by Holly Jackson


SHOP NOW

Release Date: April 30th, 2020.
Love Crime Thrillers? Then this new release is for you! This is the highly antcipated sequel to A Good Girls Guide To Murder
Pip Fitz-Amobi is not a detective anymore.
With the help of Ravi Singh, she released a true-crime podcast about the murder case they solved together last year. The podcast has gone viral, yet Pip insists her investigating days are behind her.
But she will have to break that promise when someone she knows goes missing. Jamie Reynolds has disappeared but the police won't do anything about it. And if they won't look for Jamie then Pip will, uncovering more of her town's dark secrets along the way… and this time EVERYONE is listening.
But will she find him before it's too late?
Girls Save the World in This One by Ash Parsons


SHOP NOW

Release Date: April 14th, 2020
June's whole life has been leading up to this: ZombieCon, the fan convention celebrating all things zombies. She and her two best friends plan on hitting all the panels, photo ops, and meeting the heartthrob lead of their favorite zombie apocalypse show Human Wasteland.
And when they arrive everything seems perfect, though June has to shrug off some weirdness from other fans—people shambling a little too much, and someone actually biting a cast member. Then all hell breaks loose and June and her friends discover the truth: real zombies are taking over the con. Now June must do whatever it takes to survive a horde of actual brain-eating zombies—and save the world.
A hilarious and heartfelt horror comedy, that is an ode to zombies, friendship, and girl power.
Time of Our Lives by Emily Wibberley


SHOP NOW

Release Date: April 21st, 2020
Fitz Holton waits in fear for the day his single mothers early-onset Alzheimers starts stealing her memory. He's vowed to stay close to home to care for her in the years to come never mind the ridiculous college tour she's forcing him on to visit schools where he knows he'll never go. Juniper Ramirez is counting down the days until she can leave home, a home crowded with five younger siblings and zero privacy. Against the wishes of her tight-knit family, Juniper plans her own college tour of the East Coast with one goal: get out. When Fitz and Juniper cross paths on their first college tour in Boston, they're at odds from the moment they meet while Juniper's dying to start a new life apart from her family, Fitz faces the sacrifices he must make for his. Their relationship sparks a deep connection in each others eyes, they glimpse alternate possibilities regarding the first big decision of their adult lives. Time of Our Lives is a story of home and away, of the wonder and weight of memory, of outgrowing fears and growing into the future.
See Also
What I Like About You by Marisa Kanter


SHOP NOW

Release Date: April 7th, 2020
Can a love triangle have only two people in it? Online, it can… but in the real world, it's more complicated…
There are a million things that Halle Levitt likes about her online best friend, Nash.
He's an incredibly talented graphic novelist. He loves books almost as much as she does. And she never has to deal with the awkwardness of seeing him in real life. They can talk about anything…
Except who she really is.
Because online, Halle isn't Halle—she's Kels, the enigmatically cool creator of One True Pastry, a YA book blog that pairs epic custom cupcakes with covers and reviews. Kels has everything Halle doesn't: friends, a growing platform, tons of confidence, and Nash.
That is, until Halle arrives to spend senior year in Gramps's small town and finds herself face-to-face with real, human, not-behind-a-screen Nash. Nash, who is somehow everywhere she goes—in her classes, at the bakery, even at synagogue.
Nash who has no idea she's actually Kels.
If Halle tells him who she is, it will ruin the non-awkward magic of their digital friendship. Not telling him though, means it can never be anything more. Because while she starts to fall for Nash as Halle…he's in love with Kels.


SHOP NOW

Release Date: April 16th, 2020
The second book in the bestselling Eve of Man trilogy – Eve and Bram have escaped, but can they survive?
Eve is the last girl on earth.
For the last sixteen years, Eve has been a prisoner. Guarded by the Mothers. Trapped by her fate. Watched by the world.
Until she took her chance, and escaped.
Eve finally has the freedom she has wanted for so long, and with Bram she has the love. But both come at a price. In this dangerous new world beyond the Tower, the regime is only ever one step behind. And, together with the desperate rebel group fighting against them, Eve has found herself in more danger than she ever could have imagined.
With everything stacked against them, can Eve and Bram survive?
What do you think of our picks the best YA books being released this April? Which of our best YA books being released this April will you be reading?