10 Facts You Didn't Know About The Legally Blonde Movies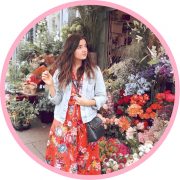 With the news that Legally Blonde 3 is officially in the works, we thought it only fitting to round up some fun facts on the Legally Blonde movies!
Here are 10 fun facts you might not know about the Legally Blonde movies:
1) Legally Blonde is based on a book!
Amanda Brown, the author of the Legally Blonde book, attended Stanford Law School. Brown wrote the book based off of letters she sent home during her time at law school. Those very letters were written on pink paper with a fluffy pen, remind you of anyone…? 
2) Elle is named after the magazine
Elle gets her name from the famous fashion magazine, Elle. The author, Amanda Brown, was a big fan of the magazine during her time spent at Law School, so it seems only fitting she would pay homage to it with her protagonist.  
3) Some of the most iconic scenes are based on real life
The scene where the sorority votes on the toilet paper they use is based on one of the screenwriter's own experience in a sorority. Likewise, Amanda Brown attended a meeting during college where she heard a woman speak about her time spent trying to change "semester" to "ovester." 
4) The Movie almost had a different ending
It was originally planned that the movie would end in the courthouse after Elle's win. However, this didn't sit well with test audiences so they decided to shoot a graduation scene as the finale instead. You may notice that Elle's hair looks a little different in the scene. Reese Witherspoon cut her hair after wrapping filming, so when she was called back to shoot this scene, she had to wear a wig. 
5) Elle was supposed to attend Stanford Law
Legally Blonde was supposed to be set at Stanford Law, however the university would not grant permission for their name to be used. Harvard Law was used instead. 
6) Bend & Snap was a much longer scene
The iconic scene even included a musical number! Kind of devastated we never got to see it. 
7) Reese hung out with a sorority to prepare
Elle Woods is the head of her sorority in Legally Blonde. In order to prepare for this part of the role Reese Witherspoon spent time with sororities studying their behaviour. 
8) You probably recognise Chutney…
In the first Legally Blonde movie, Chutney is played by Linda Cardellini, who you probably recognise as Velma from the Scooby-Doo movies. Not only that, Cardellini has been in The Avengers, Daddy's Home, New Girl and most recently Dead To Me. 
9) Reese got to keep Elle's outfits
Yep, Reese had it written into her contract that she got to keep all of Elle's 60 outfits from the Legally Blonde movies. A girl after my own heart…
10) There's a Legally Blonde musical!
Legally Blonde: The Musical has been in both London's West End and New York's Broadway!