Healthy & Easy Lunch Ideas!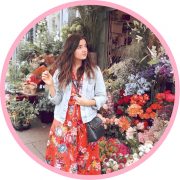 Ah lunch, the meal that marks the middle of the day and brings us one step closer to the main event – dinner! I don't know about you, but for me lunch has become a lot more effort in these strange times. Breakfast is easy enough, dinner is planned out in advance but lunch is always a bit of a question mark. Depending on the general mood of the day it can be either be an extensive (delicious) task which takes far too much time, or an old dependable sandwich. The first option can be a bit of long-drawn-out process, the latter slightly monotonous.
However, there is a solution in the form of these healthy, quick and easy lunch ideas that are sure to provide you the fuel to get back to your desk for the rest of the afternoon, and tantalise your taste buds!
Wraps
They sound boring but taste delicious, wraps have become one of my healthy, quick and easy go-to lunches! The best thing about them is their versatility. These Greek salad wraps are delicious and super easy to put together. Not feeling in the mood for salad? Opt for a tasty chicken wrap instead! You can even use your wrap as a pizza base! Just add your sauce, toppings, and some grated cheese and pop in the oven for a few minutes!
Homemade Soup
This one does require a bit of prep, but if you make your soup on a Sunday you'll have it for a few days throughout the week (so long as it is stored properly). All you have to do is reheat, and you're good to go! Vegetable soup is always a firm fave. Pop your favourite veg (potato, leek, celery, carrots etc) in a large saucepan with onion and garlic. Sauté for a few minutes until the vegetbales are slightly softened, add in about 1 litre of vegetable stock and allow to simmer until the veg is soft and cooked through. Blend in a blender to create a nice smooth texture, and voila – homemade veg soup!
Eggs
Eggs are another versatile ingredient that can be made into a tasty lunch in no time! If you're fed up with the usual scrambled and fried egg why not give poached eggs a go? Serve with some avocado on toast for a super healthy easy lunch!
Toasted Sandwiches
Partial to a sandwich for lunch? Who isn't? Why not mix things up by toasting your sandwich (or wrap)? You don't need a fancy sandwich toasting machine, a non-stick frying pan or griddle pan will do the job! Add your fillings to your sandwich as usual (we recommend adding cheese, dairy or vegan, for extra melted goodness) and simply pop on the pan for a few minutes on each side (until the cheese is nicely melted). We're big fans of the traditional cheese, tomato and red onion but you can really get experimental with your toasties and get a lot of daily veg intake in there!
Salad
Salad doesn't have to be boring, and whilst visions of mountains of lettuce might spring to mind when someone mentions salad, you can make them a lot more exciting! By adding ingredients that you probably already have in your cupboard you can make an array of healthy salad based lunches.  Pasta salad, couscous salad, chickpea salad, halloumi salad, quinoa salad ,the possibilities are endless. Don't just stick to lettuce either, add kale, spinach, and rocket for a bit of variation. Dressing is also a great way to add flavour to a salad. A healthy, easy lunch that won't take up too much time, and can be left in the fridge for a tomorrow's lunch as well!
What are some of your healthy easy lunch ideas? Will you be trying an of our healthy easy lunch ideas? Check out more in our Food section!