Shauna Doyle Launches Merch With Smooch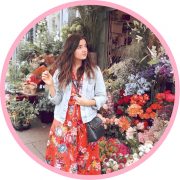 Shauna Doyle has launched her first line of merch in collaboration with Smooch Ice Cream. Designed by the fabulous Hannah Moran Jackson the merch features two gorgeous tie-dye sweatshirts, aptly named Citrus Fuzion and Cloud Sorbet.
I spoke to both Shauna and Hannah about the merch, here's what they had to say about the exciting launch!
"I've Always Wanted To Bring Out Merch"
Shauna's enthusiasm and excitement surrounding the launch is palpable. It's clear to see that this has been a real passion project of hers for some time.
"I've always wanted to bring out merch! I used to watch Youtubers like Zoella and David Dobrik, whose merch I love."
This launch has been in the works for some time. "I've been a brand ambassador for Smooch for just over a year now, and they already had Smooch merch. When we met in January to discuss the year ahead, I suggested a merch collaboration."
The Launch Almost Didn't Happen
As we all know, the current pandemic led life to almost grind to a halt. The coronavirus very nearly meant that the launch of Shauna Doyle and Smooch's merch collab almost didn't happen this year! Luckily all involved were able to pull it off, and we don't have to wait until 2021! (TG)!
Design Inspiration
The merch features two fab tie-dye sweaters. On the tie-dye design, Shauna said " I had the idea [for tie-dye] back in January, so I promise I'm not jumping on the bandwagon." The tie-dye effect "matches my branding and aestheitc." Shauna said she loves the pastel pops of colour which give the merch a summery feel!
Speaking of Design…
Hannah Moran-Jackson is the incredible designer behind the Smooch x Shauna Doyle merch. On the design Hannah told Missy "I had recently started doing my own tie dye designs so when I was asked to be the designer for this collaboration it was honestly a dream. Shauna had some amazing ideas so we worked together to bring her vision to life."
It's All About The Quality
Quality was very important to both Shauna and Hannah. The sweaters will retail at €38.95, but as Shauna pointed out, this is due to the high quality of the merch. [The sweatshirts] "are made with love. They're more expensive than fast-fashion tie-dye but they're more sustainable."
Hannah commented "all of the tie dyes are done by hand by myself so each of them are unique and a one of a kind."
"I'm So Excited!"
Shauna says she's super excited for the launch! Hannah echoed this sentiment saying "it was such an exciting collaboration to work on with Shauna and Smooch and I can't wait to see what everyone thinks of them."
Smooch x SD merch launches today, Wednesday 22nd of July @5pm! You can check out the Smooch merch store here!