The Throwback Makeup Trends Making A Comeback in 2021!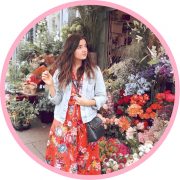 2021 or 2001? With these throwback makeup trends making a comeback, it's hard to know what era we're living in! Here are some of our favourite 90s and 00s makeup trends that are making a comeback this year…
Blue mascara defined a generation, and it's back with a bang! Pairing it with blue eyeliner a la Nick Brose on Lupita Nyong'o for a more modern twist on the classic look.
Black eyeliner in the water line was a HUGE trend that has faded in recent years. However, Bella Hadid is bringing it back, and we kinda love it tbh!
You couldn't move for colourful eyeshadow back in the early 00s. 2021 is bringing back a pop of colour to our eyelids, but in a much more wearable way. Pastel shades are big this season, with purple shades a firm favourite amongst celebs!
Matte lipstick has been en vogue for a good few years, but it looks like glossy lips are making a comeback for 2021! Think pinks and nudes with added glitter/sparkle for a real 00s look!