#Trending: One-Colour Eyeshadow How-To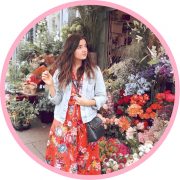 One-colour eyeshadow was a BIG trend in the 90s and early 00s. We let it go in favour of a smokey eye, and more blended looks, but now the one-colour eyeshadow look is back, and we are loving it!
Why We Love It
If life in lockdown has taught us anything it's to appreciate the simpler things in life. Rather than packing on several different colours, cutting creases, and blending like your life depends on it we're favouring a simple one-colour eyeshadow look.
You can either blend out your one colour to create a smokey eyeshadow look like Nicola Coughlan, or you can go for a neat unblended look Sophie Floyd .
How Do We Get The Look?
Nicola Coughlan's makeup artist Neil Young told Popsugar how to get the one-colour eyeshadow look. Taking a colour of your choice (we love neon and pastels!) you start by "pressing it over the lid first and then buffing it out towards the brow bones for a seamless blend." Young recommends keeping everything above the eye, and ditching the eyeliner when it comes to this look.
A post shared by Nicola Coughlan (@nicolacoughlan)

See Also
What Products Do I Use?
It's best to start with a good base. This allows you to get a bright colour, and helps with the blending process. We love Urban Decay's Original Eyeshadow Primer, but a good concealer will also work!
We love the neon shadow and pastel look, but you can use a neutral eyeshadow if you prefer! You'll need a flat eyeshadow brush to pack on the colour, and a fluffy brush to blend everything out!
What do you think of the neon shadow look? Will you be trying it?