Watch: Lady Gaga & Ariana Grande "Rain On Me" Music Video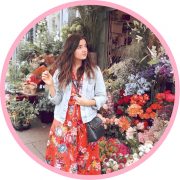 The "Rain On Me" music video is here!
Lady Gaga & Ariana Grande released the music video for their single "Rain On Me" today.
"Rain On Me" is the second single from Gaga's newest album, Chromatica. Following on from Gaga's "Stupid Love" video, "Rain On Me" dives deeper into the Chromatica realm that Lady Gaga is seeking to create.
The video, which features some killer eyeliner looks, co-stars Ariana Grande. The two lead their own separate dance troops, which eventually get together for a rain filled dance battle!
It's all a blur of pink and purple and we are living for it!! There are also some interesting special effects featuring very long hair…
Check it out for yourself!
Watch: The video for "Rain On Me":
What do you think of the "Rain On Me" music video?
Lady Gaga's new album, Chromatica, will be released on May 29th! If the two singles released so far are anything to go by, this is going to be an amazing album!
Harry Styles also released a video for his single "Watermelon Sugar" this week, you can watch it here!