Dress Like You're On… Riverdale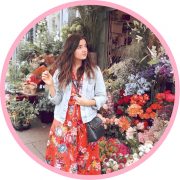 Riverdale has had many a great fashion moment over the years. So, if you've ever fancied channelling Veronica, Betty, Cheryl or Toni, keep scrolling!
How To Dress Like You're On… Riverdale
Veronica Lodge
Veronica's style on Riverdale is very preppy yet chic. To channel Veronica you'll need a lot of check print, and lots of collared blouses. Ronnie does formal wear very well, so a cute LBD is also essential.
Betty Cooper
Betty's style is also very preppy, however she's a lot more laid back in her fashion choices. Jeans, skirts and cute cardigans make up this Riverdale gal's wardrobe!
Cheryl Blossom
Cheryl's signature colour is most definitely red. Cheryl is all about outfits with an edge. Think over the knee boots and lace.
Toni Topaz
Toni is part of the Southside Serpents, a gang from the south of Riverdale. Her looks are very edgy with lots of leather and check print.
Will you be dressing like you're on Riverdale? Which Riverdale gal's style will you be stealing? You can watch the show on Netflix.