Dry Skin? Try These Hydrating Products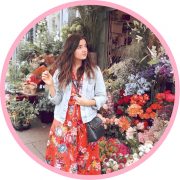 Dry skin can be difficult to deal with, use a product that's too light and it won't take effect, use something too heavy and it can lead to breakouts. Luckily, there are products out there that help soothe dry skin without being too little or too much.
If you have dry skin, try these hydrating products. They're listed in order of use, making it super easy to incorporate them into your beauty routine!
Hydrating Products for Dry Skin
yes to Coconut Oil Cleansing Balm


SHOP NOW

Makeup removal is vital, no matter your skin type. This yes to Coconut Oil Cleansing Balm is the most hydrating cleansing balm I've used. It's melts off makeup and leaves your skin feeling clean, not greasy.
Banish dry skin with yes to Coconut Cleansing Balm, a silky, hydrating formula that comes with a luxurious Coconut-infused sponge.
Melting effortlessly into skin to replenish moisture deep below the surface level, the cleanser helps to sweep away impurities whilst soothing any tightness and discomfort. Infused with ultra-nourishing Coconut Oil, the gentle balm removes even the most stubborn of makeup to leave behind a clean, clarified and glowing complexion.
You might also like…
CeraVe Hydrating Cleanser


SHOP NOW

The CeraVe Hydrating Cleanser has a somewhat cult following. You've probably heard people raving about the product. It's designed for normal to dry skin, and works to cleanse without stripping your skin.
Expertly sweeping away dirt, excess oil and impurities without stripping away moisture, the cleanser uses Hyaluronic Acid to strengthen and restore the natural barrier function for long-lasting hydration. Time-release technology ensures skin stays bright, clear and refreshed throughout the day and night.
You might also like…
Nuxe
Lotion Tonique Douce


SHOP NOW

When it comes to toners, glycolic acid is often the buzz ingredient people look for. But if you're skin is more on the dry and sensitive side, you'll want something a little more soothing. Nuxe Lotion Tonique Douce is just that, a soothing toner for the face and eyes.
Gently tone and refresh your skin with Nuxe Lotion Tonique Douce – Gentle Toning Lotion, packed full with natural astringents this lotion will visible reduce with size of your pores, encouraging only new impurity free skin to come through.
You might also like…
The Ordinary Hyaluronic Acid 2% + B5


SHOP NOW

If your dry skin needs hydrating then this is the product for you! The Ordinary's Hyaluronic Acid is famous for its hydrating properties. The super affordable price tag makes this product even better.
This ultra-pure serum combines 3 types of hyaluronic acid at varying molecular sizes with Vitamin B5 to offer lasting hydration and visible plumping of the skin at all levels of the dermis. Moisture retention, lipid barrier strength, and surface hydration are all improved, leading to smoother, softer, healthier skin.
Tip: lightly dampen your face before applying this as it can have a sticky consistency. A damper surface helps it sink in better.
The Ordinary 100% Plant Derived Squalene


SHOP NOW

Another The Ordinary product, 100% plant derived squalene is a a great hydrator. This can be used after you've applied your hyaluronic acid to give an extra layer of locking in moisture!
Suitable for all skin types, 100% Plant-Derived Squalane softens and smooths dry skin. Applied daily to the face, skin is instantly hydrated whilst in the long-term ongoing loss of hydration is prevented.
You might also like…
Avéne Hydrance Hydrating Cream


SHOP NOW

You've removed your makeup, you've cleansed, toned and applied serums, now it's time to lock in all the hydrating goodness with a moisturiser! The Avéne hydrance cream is a rich moisturiser that doesn't feel heavy on the skin. It sinks in super quick, perfect for wearing in the AM & PM!
Quickly penetrating into the skin, the moisturiser gets to work and leaves lacklustre, uneven skin looking and feeling healthy, radiant and protected.
You might also like…
Will you be trying any of these hydrating products for dry skin? What hydrating products do you use for dry skin?