Missy Review: The Primark X Andrew Fitzsimons Products We're Loving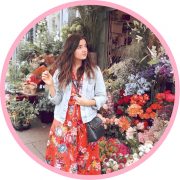 The Primark x AF landed in Penneys stores nationwide a few weeks ago and we were just dying to give it a try.
Here's some of the stand-out products that Team Missy have been raving about.
Primark x AF Shampoo & Conditioner ​

What They Say:
"Get super shiny hair every day with luxurious shine boosting shampoo, expertly blended with argan oil, Provitamin B5, Keratin and amino acids for the glossiest hair."
What Jessie Thinks:
The Primark x AF Shine Shampoo & Conditioner has possibly the cutest packaging I've seen in a long time! So I was pretty much sold on the product inside straight away without even trying it.
On actually testing the product though it really did what it said on the lid. My hair felt glossy and smooth without feeling weighed down or greasy. I love the fact the shampoo has a slight shimmer to it. The only down side was the fact that the (amazing) smell didn't last long.
Primark x AF Small Silk Wraps

What They Say:
"Upgrade your hair ties with these stylish silk bands."
What Jessie Thinks:
These are great if you like sleeping with your hair tied up and prefer a scrunchie over a bobbin. They're thinner than you're average scrunchie making them a lot easier to sleep on! The silky material is also much better for your hair.
Primark x AF Hair Oil

What They Say:
"Add some celeb style shine to your tresses by smoothing through some luxurious hair oil"
What Danielle Thinks:
I have really long hair that's quite dry and frizzy at the ends and this hair oil is a God-send. I love putting a bit in the ends of my hair before I dry it, but it's also great at keeping frizz at bay on 2 day-old hair. I just run a tiny bit through my hair and it tames it and adds an incredible shine.
See Also
Primark x AF Dry Shampoo

What They Say:
"This sheer styling spray combines the texture of a dry shampoo and the hold of a hairspray to give effortless texture and volume"
What Danielle Thinks:
A little bit dry shampoo, a little bit texture spray, this is one thing I just can't do without now. It adds volume to roots and gives hair that undone look when worked in. And for €3 you just can't go wrong!
Have you tried the new range yet?
Follow Andrew on Instagram.