Selena Gomez's Makeup Brand "Rare Beauty": Everything We Know So Far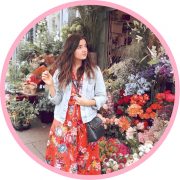 Selena Gomez announced the launch of her beauty brand, "Rare Beauty", back in February. We're now getting close to the anticipated summer release date, so we're taking a look at what we know so far about the songstresses new beauty line.
Here's Everything We Know So Far About Selena Gomez's Beaty Brand "Rare Beauty":
Selena Wore The Products In A Music Video
Selena announced her upcoming beauty brand "Rare Beauty" during an Instagram Live, shortly after the release of her music video for 'Boyfriend.' She also revealed that she was wearing some of the products in the video!
Here's What Products We Can Expect…
Selena revealed in an interview with Amy Schumer that she will be releasing 48 shades of foundation and concealer, following in the footsteps of versatile shade ranges like Rihanna's "Fenty Beauty". Amy Schumer asked Gomez to create a mascara that doesn't clump, to which Gomez agreed so we can expect a mascara. Lipstick and eyeshadow will also feature in the "Rare" beauty collection.

Why Selena Gomez Is Releasing A Beauty Brand
It seems every celebrity seems to be delving into the beauty realm lately. From makeup to skincare, some of the world's biggest celebs are investing their money in beauty brands. Selena's motivation?
In the same interview with Amy Schumer, Selena commented "I wanted to start a conversation about how can you make yourself feel great. It's not necessarily about needing these things to make yourself feel beautiful. People of my generation have all this pressure to look a certain way, and I wanted to make a line that took away a bit of that pressure. I use real people in the campaigns."
When We Can Expect "Rare Beauty" In-Store
@rarebeauty released a video explaining that "Rare Beauty" will launch in North America in all Sephora stores in 2020. It is expected that "Rare Beauty" will go global in 2021, so we might be waiting a while for the products to hit shelves in Ireland.
A Look At Some Of The Products…
As previously mentioned, Selena wore some of the "Rare Beauty" products in her "Boyfriend' video. The star has also been posting some selfies to Instagram featuring the lipsticks, eyeshadows and eyeliner.
There Shouldn't Be Delays Due To COVID-19
Sorry for mentioning it, but COVID-19 has put the world on halt in recent months. Good news is, it looks like Selena isn't letting it get in the way of her product launch. The "Rare Beauty" team announced on Instagram that they were working from home. There may be trouble getting a shoot for the products set up. Gomez has been vocal in the fact that she wants to use real model, even putting out an open casting call earlier in the year. We'll just have to wait and see, but for now it looks at though "Rare Beauty" will still launch in Summer 2020!
@rarebeauty Had Over 900,000 Followers Before It's Official Launch…
The @rarebeauty Instagram account caused a lot of drama when "Rare Beauty" was first announced. Why? It appears that Selena Gomez and/or her team repurposed the @revivaltour Instagram account, which already had a huge following. According to dailydot.com, people were very unhappy with the change as they had no recollection of following an account by the name of "Rare Beauty." Others felt it unfair that Selena's brand already had that many premature followers .
At the time of writing, "Rare Beauty" had no official launch date but it looks like it will be 2021 before the brand is widely available here in Ireland. We're looking forward to seeing what the range will include! 
Are you excited for Selana Gomez's "Rare Beauty" launch?