The Best Fashion TikTok Accounts To Follow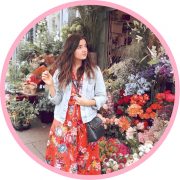 TikTok has truly taken over our lives. From funny videos, to makeup tutorials – if you name the topic there is more than likely a video on TikTok about it. But who should you be following when it comes to your favourite things? Like fashion… Don't worry, we've put the work in so you don't have to!
Here are some of the best fashion TikTok accounts to follow: 
@fashioninflux
Lydia Rose aka @fashioninflux is a UK based TikToker and makes such cute styling videos. If you're looking for some style inspiration then check her out! 
@fashionlush
Erica's (@fashionlush) creates fun, fashion focused TikToks. This one featuring modern day Tiger King looks gave us a giggle. 
@funkyfitz
If you're a fan of 90's fashion then you need to follow @funkyfitz! Styling pieces we all more than likely have in our wardrobes and putting a 90's era spin on them is Rui's thing! 
@lauraxlora
Laura creates really useful DIY and Life Hack TikTok videos. Definitely worth a follow if you'd like to find out how you can upcycle items in your current wardrobe whilst still looking fashionable AF!
@louiseereid
Louise creates really helpful styling videos. We really love this 'fashion through the decades' style video Louise put together, so creative and fun! 
@brittany.xavier
Brittany's style is chic. She's made a good few TikToks explaining how you can make your outfit look a little more expensive. She also makes super cute styling videos with her daughter.
@jessthrowiton
Jess makes really helpful 'how to style' TikToks. If you've got some pieces in your wardrobe that you just can't make work, then definitely check out @jessthrowiton. You could find some really cool ways to style your clothes! 
@kerifay
@kerifay features a lot of how-to videos on her TikTok. The best thing about her videos (besides her amazing fashion sense) is the editing. Her videos are really fun to watch and well thought out. 
@retroflame
Erika is an Irish gal living in NYC, her style is so effortlessly chic. We've been really enjoying her fashion based TikTok videos, especially this one where she is joined by her fashionable sister, Kaelin. 
@petiteellie
Ellie has such great style, we really love her Instagram. Her TikToks feature 'OOTD' style content as well as cute fashion hauls. Definitely worth following if you're looking for fashion TikTok accounts!
Do you watch fashion TikToks? Will you be following any of our recommendations of the best fashion TikTok accounts to follow? Which fashion TikTok accounts do you like to follow?