The Best YA Books Being Released In November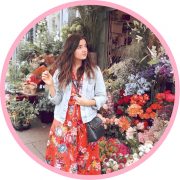 Can you believe it's already November? The year is flying by, despite everything. As always, with a new month comes some great new YA Books!
Here Are The Best YA Books Being
Released In November
These Violent Delights by Chloe Gong
Release date: November 17th, 2020
Perfect for fans of The Last Magician and Descendant of the Crane, this heart-stopping debut is an imaginative Romeo and Juliet retelling set in 1920s Shanghai, with rival gangs and a monster in the depths of the Huangpu River.
The year is 1926, and Shanghai hums to the tune of debauchery.
A blood feud between two gangs runs the streets red, leaving the city helpless in the grip of chaos. At the heart of it all is eighteen-year-old Juliette Cai, a former flapper who has returned to assume her role as the proud heir of the Scarlet Gang—a network of criminals far above the law. Their only rivals in power are the White Flowers, who have fought the Scarlets for generations. And behind every move is their heir, Roma Montagov, Juliette's first love…and first betrayal.
But when gangsters on both sides show signs of instability culminating in clawing their own throats out, the people start to whisper. Of a contagion, a madness. Of a monster in the shadows. As the deaths stack up, Juliette and Roma must set their guns—and grudges—aside and work together, for if they can't stop this mayhem, then there will be no city left for either to rule.
Instant Karma by Marissa Meyer
Release date: November 3rd, 2020
In this young adult contemporary romance, a girl is suddenly gifted with the ability to cast instant karma on those around her—both good and bad.

Chronic overachiever Prudence Daniels is always quick to cast judgment on the lazy, rude, and arrogant residents of her coastal town. Her dreams of karmic justice are fulfilled when, after a night out with her friends, she wakes up with the sudden ability to cast instant karma on those around her. Pru giddily makes use of the power, punishing everyone from public vandals to karaoke hecklers, but there is one person on whom her powers consistently backfire: Quint Erickson, her slacker of a lab partner and all-around mortal enemy. Soon, Pru begins to uncover truths about Quint, her peers, and even herself that reveal how thin the line is between virtue and vanity, generosity and greed . . . love and hate. 
The Girl Who Wasn't There by Penny Joelson
Release date: November 3rd, 2020
I know what I saw.
Nothing ever happens on Kasia's street. And Kasia would know. Her illness keeps her home for days at a time, with little to do but watch the world from her bedroom window. So when she witnesses what looks like a kidnapping, she's not sure she can believe her own eyes…
So she sets out to find the only other witness. The girl in the window across the street. The girl who was also watching when things went down.
But what Kasia discovers shocks her more than the kidnapping itself.
Super Fake Love Song by David Yoon
Release date: November 19th, 2020
From the bestselling author of Frankly in Love comes a contemporary YA rom-com where a case of mistaken identity kicks off a string of (fake) events that just may lead to (real) love.
When Sunny Dae—self-proclaimed total nerd—meets Cirrus Soh, he can't believe how cool and confident she is. So when Cirrus mistakes Sunny's older brother Gray's bedroom—with its electric guitars and rock posters—for Sunny's own, he sort of, kind of, accidentally winds up telling her he's the front man of a rock band.
Before he knows it, Sunny is knee-deep in the lie: He ropes his best friends into his scheme, begging them to form a fake band with him, and starts wearing Gray's rock-and-roll castoffs. But no way can he trick this amazing girl into thinking he's cool, right? Just when Sunny is about to come clean, Cirrus asks to see them play sometime. Gulp.
Now there's only one thing to do: Fake it till you make it.
Sunny goes all in on the lie, and pretty soon, the strangest things start happening. People are noticing him in the hallways, and he's going to football games and parties for the first time. He's feeling more confident in every aspect of his life, and especially with Cirrus, who's started to become not just his dream girl but also the real deal. Sunny is falling in love. He's having fun. He's even becoming a rocker, for real.
But it's only a matter of time before Sunny's house of cards starts tumbling down. As his lies begin to catch up with him, Sunny Dae is forced to wonder whether it was all worth it—and if it's possible to ever truly change.
The Way Back
by Gavriel Savit
Release date: November 19th, 2020
Perfect for readers of Neil Gaiman and Philip Pullman, a sweeping historical fantasy that follows two teens on a journey through the Far Country, a Jewish land of spirits and demons.
For the Jews of Eastern Europe, demons are everywhere: dancing on the rooftops in the darkness of midnight, congregating in the trees, harrowing the dead, even reaching out to try and steal away the living.
But the demons have a land of their own: a Far Country peopled with the souls of the transient dead, governed by demonic dukes, barons, and earls. When the Angel of Death comes strolling through the little shtetl of Tupik one night, two young people will be sent spinning off on a journey through the Far Country. There they will make pacts with ancient demons, declare war on Death himself, and maybe– just maybe–find a way to make it back alive.
Will you be reading any of these YA Books Being Released November? What YA Books Being Released November are you looking forward to?
*Blurbs from Goodreads.com