Here Are Some Of The Biggest Hairstyles For A/W 2020!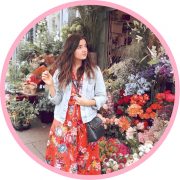 We might not be able to get to a hairdressers until December 1st, but that doesn't mean we can't try out some of the biggest hairstyle trends for Winter 2020.
From up-dos to hair accessories, there's something for everyone!
Hairstyles For Winter 2020
Sleek Ponytails With Bangs
A slicked by ponytail with bangs is a big trend for Winter 2020. You'll need plenty of hairspray and bobby pins to pin your bangs into place, but the technique is relatively easy!
1)Pull your hair up into a high ponytail (leaving some thick strands at the front to act as "bangs"), ensuring to smooth down any flyaways with a brush and hairspray.
2)Take the pieces you left down and style them to frame your face subtly. Pin them into place with your bobby pins and set with hairspray.
Half Up Half Down
Half Up Half Down styles are very on trend for Winter 2020, and it's so easy to achieve!
Separate your hair into 2 sections, making the bottom section thicker than the top layer.
Tie the first layer up into a bun or ponytail.
Voila! You've got a fab half up half down do!
Butterfly Clips
The 90s are well and truly back! Butterfly clips are a great way to add a little something to your everyday hairstyle!
Headbands
Headbands have been around for a few seasons now, but for Winter 2020 they're getting bigger and bolder. Think diamanté detailing, pearls, and lots of glitter!
Low ponytail
If high ponytails aren't your thing, low ponytails are very on trend for Winter 2020 too! For a bit of something extra, scrape your hair into the low pony and curl the pieces of hair. This will allow you to have sleek hair on the top of your head, and volume throughout the ends. Pop a bow or scrunchie on to complete the look!
What Winter 2020 hairstyle will you be trying out this season? Do you have any suggestions for hairstyles Winter 2020?
If you love up dos, check these out!
* Images from Pinterest