Love Island Fashion: Steal Their Style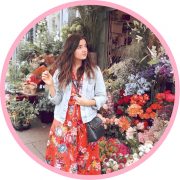 Love Island and fashion go together like Tommy and Molly Mae. Every evening the girls and guys of the villa don their glad rags in the hopes of cracking on. If you're like us, you probably sit there saying "I must find out where that dress is from" to yourself, but never actually do.
Well, today is the day that we do just that, and figure out where some of our favourite looks of Love Island 2019 come from!
Look 1: Joanna's Cute Crop Top
We love 'milk maid' this crop top from I Saw It First, it's so perfect for summer! Joanna styling the top and denim trousers with clear heels is so fab, and something we'd defo wear!
Look 2: Yewande's Day Date Dress
This floral dress has stuck in our mind ever since we first saw the beautiful Yewande wear it to her date with Danny. We are v glad to have found where it's from! I Saw It First are killing it with the Love Islander fashion game this year!
Molly Mae's Arrival Look
Molly Mae first featured this dress on her Instagram a few months ago, but you'll recognise it as the dress she wore when entering the villa! The LBD is from House of CB and is soooo fab!
Look 4: Amber's Fab Bodysuit
We are all about this mint green colour, and Amber just looks amazing in this bodysuit! Perfect for a fun and flirty date look, or a great day to night look for holidays! The wedges she's styled it with are uber cute too!
Look 5: Amy's Denim Dress
Poor Amy has not had the best of luck finding love on Love Island, but at least her outfits have been ! This Denim dress is so adorable. The best thing? It can be transitioned to A/W season by popping a long sleeve top underneath, and adding some tights!
Look 6: Molly Mae's Return To The Villa OTTN!
Molly's zebra pants are TDF!! Obsessed is not the word! Both the pants and the leather crop top (which is vegan btw), are both from Oh Polly! She wore this entire outfit heading back into the Villa from Casa Amor, which let's be honest was the most emotional Love Island of 2019 so far!
Look 7: Anna's Neon Party Dress
We loved Anna's neon pink party dress! Perfect for summer, this neon pink will really pop no matter how you style it!
Here's a better look at the dress…
Looks 8 & 9: Maura and Elma's Arrival Dresses
Maura and Elma caused quite a stir when they arrived at the Villa, and they looked fab doing it! Maura's white dress is from ASOS. Elma's red dress that makes us think we'd defo have a emoji in our caption on Insta is from I Saw It First.
Look 10: Amber's Little White Dress
Amber's Little White Dress is so summery – we love it! Every gal needs a white dress in her wardrobe, and this one is the perfect choice! Amber is obviously a fan of wedges, these clear strapped ones are v cute!
What do you think about the Love Island fashion this year? Let us know in the comments!
Shop The Post
Some more Love Island wardrobe inspo…