Our 5 Fave Songs from 'To All the Boys: PS. I Still Love You'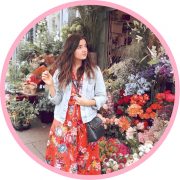 To All The Boys I've Loved Before: PS, I Still Love You landed on our Netflix screens last week and we've rewatched it more times than we care to admit to… Whether you loved it or hated it, one thing we can agree on is the amazing soundtrack the movie featured!
Here are our 5 favourite songs from To All The Boys: P.S I Still Love You, that we recommend you add to your Spotify playlist ASAP!
*This post contains spoilers*
I Can't Believe – CYN

I Can't Believe by CYN plays during the scene where Peter and Lara Jean go on their first real date. The chorus is catchy AF, trust me – only listen if you're willing to have a song go round and round your head for hours on end.
Midway – Bad Bad Habits

Midway by Bad Bad Hats plays in a very important scene in TATBILB 2, the arrival of John Ambrose's letter. Whether you're Team Peter or Team John Ambrose, this song is a cute laid back track that's great for easy listening!
I Want It That Way – Backstreet Boys

An absolute classic, so of course it had to make our list! I Want It That Way by the Backsreet Boys is performed by the A Cappella group on Valentine's Day. The disappointed look on Lara Jean's face when she realises Peter hasn't sent them to serenade her is heartbreaking but Trevor's efforts to join us brought a smile to our faces!
Kill This Love – BLACKPINK

Kill This Love by Blackpink accompanies the scene in which Lara Jean gets suited and booted to support Peter as he heads off to a game. A very fitting song, as the scene that follows -spoiler alert- ends in the start of their breakup. Did we cry? Maybe. Is this song now on repeat? Definitely!
About Love – MARINA

The song of the movie, and an absolute bop is Marina's About Love. The song plays as Lara Jean and Peter kiss and make up if you will, slowly fading to the credits and leaving us waiting eagerly for the third instalment whilst pressing play on the Netflix suggestion to watch the first movie (again)!
What are your favourite songs from To All The Boys?
Related Story