The Best YA Books Being Released In July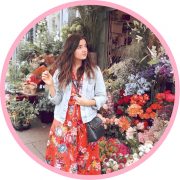 Can you believe it's nearly July?! The year is flying by! But as always, a new month means new books releases!
Here Are The Best YA Books Being Released in July
Release Date: July 14th, 2020
An authentic, angry, and surprisingly funny and romantic novel about sexual harassment, from award-winning author Danielle Younge-Ullman.
Libby's having a rough senior year. Her older brother absconded with his college money and is bartending on a Greek island. Her dad just told her she's got to pay for college herself, and he's evicting her when she graduates so he can Airbnb her room. A drunken hook-up with her coworker Kyle has left her upset and confused. So when Perry Ackerman, serial harasser and the most handsy customer at The Goat where she waitresses, pushes her over the edge, she can hardly be blamed for dumping a pitcher of sangria on his head. Unfortunately, Perry is a local industry hero, the restaurant's most important customer, and Libby's mom's boss. Now Libby has to navigate the fallout of her outburst, find an apartment, and deal with her increasing rage at the guys who've screwed up her life–and her increasing crush on the one guy who truly gets her. As timely as it is timeless, He Must Like You is a story about consent, rage, and revenge, and the potential we all have to be better people.
Release Date: July 9th, 2020
It was all sinking in. I'd never had a crush on anyone. No boys, no girls, not a single person I had ever met. What did that mean?
Georgia has never been in love, never kissed anyone, never even had a crush – but as a fanfic-obsessed romantic she's sure she'll find her person one day.
As she starts university with her best friends, Pip and Jason, in a whole new town far from home, Georgia's ready to find romance, and with her outgoing roommate on her side and a place in the Shakespeare Society, her 'teenage dream' is in sight.
But when her romance plan wreaks havoc amongst her friends, Georgia ends up in her own comedy of errors, and she starts to question why love seems so easy for other people but not for her. With new terms thrown at her – asexual, aromantic – Georgia is more uncertain about her feelings than ever.
Is she destined to remain loveless? Or has she been looking for the wrong thing all along?
This wise, warm and witty story of identity and self-acceptance sees Alice Oseman on towering form as Georgia and her friends discover that true love isn't limited to romance.
Release Date: July 7th, 2020
From the author of the New York Times bestseller Wilder Girls comes a new twisty thriller about a girl whose past has always been a mystery–until she decides to return to her mother's hometown . . . where history has a tendency to repeat itself.
Ever since Margot was born, it's been just her and her mother. No answers to Margot's questions about what came before. No history to hold on to. No relative to speak of. Just the two of them, stuck in their run-down apartment, struggling to get along.
But that's not enough for Margot. She wants family. She wants a past. And she just found the key she needs to get it: A photograph, pointing her to a town called Phalene. Pointing her home. Only, when Margot gets there, it's not what she bargained for.
Margot's mother left for a reason. But was it to hide her past? Or was it to protect Margot from what's still there?
The only thing Margot knows for sure is there's poison in their family tree, and their roots are dug so deeply into Phalene that now that she's there, she might never escape.
Release Date: July 21st, 2020
If I could have a fiddle made of Daddy's bones, I'd play it. I'd learn all the secrets he kept.
Shady Grove inherited her father's ability to call ghosts from the grave with his fiddle, but she also knows the fiddle's tunes bring nothing but trouble and darkness.
But when her brother is accused of murder, she can't let the dead keep their secrets.
In order to clear his name, she's going to have to make those ghosts sing.
Family secrets, a gorgeously resonant LGBTQ love triangle, and just the right amount of creepiness make this young adult debut a haunting and hopeful story about facing everything that haunts us in the dark.
Release Date: July 7th, 2020
It's 200 years after Cinderella found her prince, but the fairy tale is over. Teen girls are now required to appear at the Annual Ball, where the men of the kingdom select wives based on a girl's display of finery. If a suitable match is not found, the girls not chosen are never heard from again.
Sixteen-year-old Sophia would much rather marry Erin, her childhood best friend, than parade in front of suitors. At the ball, Sophia makes the desperate decision to flee, and finds herself hiding in Cinderella's mausoleum. There, she meets Constance, the last known descendant of Cinderella and her step sisters. Together they vow to bring down the king once and for all–and in the process, they learn that there's more to Cinderella's story than they ever knew . . .
This fresh take on a classic story will make readers question the tales they've been told, and root for girls to break down the constructs of the world around them.
Will you be adding any of our best YA books being released in July to your 'to be read' list? What YA books being released in July are you looking forward to?
Blurbs via goodreads.com.