UK Bloggers You NEED to Follow!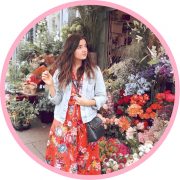 We've already talked about our favourite Irish Bloggers so, now it's time to show some love to the blogger gals across the pond today. We've compiled a list of UK Bloggers you should follow straight away. From fashion inspo to hilarious Insta stories, and blog posts about the important stuff in life, these girls deserve your follows.
Beth is such a genuine person. She's currently in her final year studying law in London. Her Instagram is absolutely beautiful, London street style at it's best! Beth is defo one of our fav UK Bloggers. Her blog content is relevant, insightful, and fun to read. We especially loved this article about female friendship.
Holly wardrobe is serious goals! She turns casual pieces into amazing fashionable outfits. A lot of her posts feature New Look and other great high street stores so outfit inspiration is very affordable. Holly's blogging is also great, we love this post on tips for shooting outfits in winter.
Ellie is an absolute sweetheart. Her personality shines through her fashion. Cute, casual outfits are the main theme of her Insta. Her blog posts are full of helpful fashion tips, but Ellie also writes about more serious topical issues. We really enjoyed this post on her thoughts of growing your Instagram if you're giving blogging a go.
We might go so far as to say that Hannah is the most real UK blogger we follow. She's a new mum but her content is so relatable. Hannah shares the ups and downs of her life, deciding to laugh at herself when things don't go to plan, rather than take herself too seriously. This is a lesson we could all do with learning. It's refreshing to see someone with such a large following sharing the bad bits with the good. Her fashion content is to die for! Just check out her Insta feed, you'll be blown away. Hannah's blog contains everything from food to fashion to travel. There's something for all ages!
Your jaw will drop when you see Laura's Instagram feed. She is the creme de la creme of fashion bloggers, UK or otherwise. It's not all about a life in pictures though, Laura is a genuinely lovely gal, a look at het Youtube channel will tell you that. Her blog is also beautiful. Laura shares lots of great fashion posts, we especially love this one featuring affordable fashion at New Look.
As if Sophie's Instagram feed wasn't reason enough to follow her, she's also a complete #GirlBoss. Sophie is the founder and editor of Girls In Work (@girlsinwork) an online resource for girls to discuss goals and challenges faced by women in the workplace. Sophie's blog hosts numerous articles on careers and lifestyle. We especially enjoyed her piece on surviving the workplace if you identify as an introvert.
When it comes to blog and Instagram photography Maria is the queen! A quick glance at her Instagram feed will leave you in awe. Maria is based in London and she uses the city to her advantage with amazing backdrops featuring in every shot. Maria's blog features fashion and beauty, as well as posts on food and travel. Her post on tips for packing a realistic carry on bag is a great read for your summer holiday prep!
Also known by her blog title, What Olivia Did, Liv has been blogging since 2010. You can tell she's a pro in the blogging game. Her blog and Instagram content will leave you inspired. Olivia is down to earth, her posts are written in the way you'd address your friends, not your "followers". We at missy.ie especially love her Girl Crush articles. Liv interviews women who are an inspiration to all.
If you love berets you'll love Laura! And even if you're not too fond of the beret, you'll still love Laura! Not only does Laura blog but she also has a Youtube channel. We love Laura's relaxed style. She can take an oversized jumper and make it look haute couture, yet maintaining a comfy/casual vibe. Laura has a great personality, her Instagram feed is like searching through your BFF's wardrobe for fashion inspiration.
Kate is a Glasgow based blogger with a serious commitment to her Instagram theme that we can't help but envy! Check it out, you'll know what we're talking about when you see it. Like Laura above, Kate also has a Youtube channel as well as a blog. Kate is the queen of interiors, if you are ever looking for inspo to redo your room or jazz up your college dorm, look no further than Kate's social media platforms. In fact, Kate has a whole section on her blog dedicated to interiors… you can thank us later!
Which UK Bloggers so you love following?