Watch: The Kissing Booth 3 Trailer is Finally Here!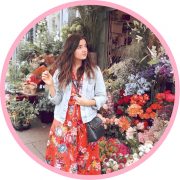 The trailer for The Kissing Booth 3 is finally here, and we are super excited for it to hit Netflix next month!
From the trailer we know that the story centres around Elle, Lee and Noah 'looking after' their parents' beach house for one last summer of fun!
The movie will feature Elle and Lee working their way through a beach themed bucket list. Alongside this, Elle has to decide whether to attend Harvard with her boyfriend Noah, or head to Berkeley with Lee. Throw in a job in a restaurant and her old love triangle buddy, Marco, hanging around and we're ready for ALL the teen centred drama!
Elle expresses to Marco that she feels like she's running around "like a crazy person" by trying to complete the bucket list with Lee, and decide on her future with Noah. If we thought Marco and Elle's friendship was purely platonic we can think again when later on in the trailer he remarks "You're not meant to be with that guy."
What do you think of The Kissing Booth 3 trailer? The Kissing Booth 3 premieres on Netflix on August 11th!