10 Irish Insta Gals We're Loving At The Moment!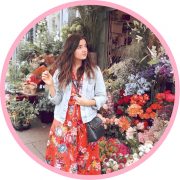 We're all about supporting our fellow Irish gals here at Missy.
Our last article on the Irish Instagram accounts you need to follow was a huge success and we got SO many suggestions about who else we should feature. So, we've put together 10 more Irish Bloggers To Follow On Instagram. We've got something for everyone so give them a look, and maybe even a follow…
Irish Bloggers To Follow On Instagram

Let's just start off by saying Amy's Insta feed and blog are beyond pretty! We absolutely love her posts. Amy's beauty posts are a must read! Her style is fab, and we love hearing her thoughts on Love Island every night! Amy also does a beautiful monthly newsletter full of positivity tips, organisation tips and her latest fashion finds. Make sure that you sign up, you really don't want to miss it.
We love Molly and her Insta for her extra AF style. Her style is to die for, and we love her attitude towards life! Molly also has a YouTube channel where she shares hauls, vlogs and advice videos! Give Molly a follow if you appreciate great editing, and be prepared for her to be your newest #GirlCrush!
If you love books and fabulous images you need to be following Joanna on Instagram! Her gorgeous blog is also worth a follow for great book reviews. Joanna has an amazing eye when it comes to photography – check out her feed and see books photographed in ways you never thought possible! Cheeto, her cute cat alsp features throughout! Cats and books!? We're sold!
Lucy is killing it at the Insta game these days. We love her fab style and travel tips! Lucy also shares great places to eat so if you're a bit of a foodie she's a must follow! Also check out Lucy's documentary on Youtube which explores the work of influencers in Ireland as well as her blog.
Not only does Nelly's fab personality shine throughout her Insta feed, her style is so so fab! Nelly takes simple pieces and manages to style them in an amazing Insta worthy outfit. Check out her feed and blog for a bit of outfit inspo!
When it comes to Insta there is only one word to describe Dee – Queen! Just look at her feed and you'll know what we mean. Her style is so glam, think office chic times 10!
Clóda's feed is stunn-ing! Not only are her outfits absolutely fab, but her personality shines through her Instas. Clóda is the type of gal you want as your BFF! Check out her blog for beauty reviews and fashion inspo!
Take a look at Shóna's feed and try not to fall in love with her style and aesthetic! You can see Shóna puts a lot of time and effort into her Insta, the end result being an amazing feed! Shóna recently set up her own business @ShoMarketing, so she's #GirlBoss goals!
If you are looking for an aesthetically pleasing Insta account to follow that features the latest and greatest beauty products, look no further! Cliona's feed is TDF! It takes a lot to put together a great flatlay so we really love Cliona's feed, just look at those beautiful images!!
Emer J – @elegance_by_emer
We love Emer's feed and her fashion focused content. You can tell from her Insta and blog that Emer is very passionate about fashion. If you're ever lacking a bit of wardrobe inspo, head on over to Emer's feed!
Who are some of your favourite Irish Bloggers To Follow On Instagram? Let us know in the comments!