A Timeline of Lili Reinhart & Cole Sprouse's Relationship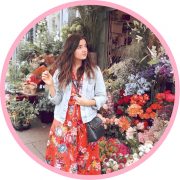 Cole Sprouse and Lili Reinhart were Hollywood's (and love's) young dream. Having met on the set of hit show Riverdale, an on again-off again relationship ensued.
Cole recently revealed that he and Lili officially split back in March of this year. Taking to Instagram Cole wrote "Lili and I initially separated in January of this year, deciding to more permanently split in March" captioning a picture of Lili in a wooded area. Quite refreshing when contrasted to other celebs break ups…
Here's a timeline of Cole & Lili's Relationship
With that in mind, we knew we had to take a look back on their relationship and compose a timeline from when they first met up until now!

via GIPHY
January 2017
Riverdale premieres in January 2017. Even though Archie is intially the apple of Lili's character Betty's eye, it's soon clear that it's Jughead she has chemistry with. This chemistry carries off-screen and fans of the show are soon shipping Cole and Lili IRL.
March 2017
Cole posts this photo to his Instagram after months of fans speculating the two were an item. Albeit there wasn't much to the emoji based caption, but it was enough to get people talking!
April 2017
In April however, we got a lovey-dovey caption with a black and white shot of Lili. It was defo looking like the two were getting serious…
September 2017
After rumours of hand holding at ComicCon, and Skeet Ulrich (FP Jones) commenting that the two had "great chemistry", Lili and Cole appeared alongside their co-stars on Entertainment Weekly. Holding hands no less…
November 2017
After some more sharing of photos from the two, and a lot of hinting to the media; Cole revealed in an interview that we wouldn't be confirming his relationship status with Lili. Ever. However, he also didn't deny it… Speaking to People he said, "People speculate about me with every member of the cast practically, but it's really no one's right to know."
January 2018
The not yet confirmed couple spend New Year's in Hawaii, where some fans run into them!
April 2018
April 2018 involved a lot of near misses for the secret couple. The two were snapped kissing on a press trip in Paris. Could the general romance of Paris be to blame, or the fact they were promoting a show in which they were a couple?
Furthermore, the two were papped together at LAX later in the month.
May 2018
The moment we'd all been waiting for… Cole and Lili looki like they're an actual couple. On the red carpet of the MET Gala of all places!
August 2018
Whilst the two seemed to confirm their relationship on the red carpet of the MET Gala, they still refused to comment on their relationship, and makes things official to the public. On Cole's birthday in August, Lili wrote an Instagram caption, signing off "Happy Birthday my love." If that's not confirmation then we don't know what is!
HOWEVER… That same month the two attended the 2018 Teen Choice Awards, but didn't walk the red carpet together… inside the two were sat with a chair between them. Was the relationship over??
Plot twist, at the end of the August the couple (?) was back in Paris!
September 2018
In September, Cole shared the below picture to Instagram. His iconic birthday message to Lili was also shared the same month, however the image has since been removed from his Instagram…
October 2018
In October Lili finally opened up about her relationship with Cole to the media. However, it wasn't to make things official. Instead, she highlighted why she finds it important to keep her love life private. Lili also gushed about Cole's talent and passion for photography.
Speaking of, the two had been posting a lot of pictures picture back and forth of one another. In October 2018 Lili shared a pic of a shirtless Cole, under which he commented "are you guys dating?"
February 2019
After spending Thanksgiving 2018 with Lili's family, it looked like things were getting pretty serious with Sprousehart. However the beginning of 2018 saw many a rumour that the couple had split. The record was put straight when Cole shared a picture of Lili on Valentine's Day, the two were still very much together!
March 2019
If there were still any doubts about the status of their relationship, Lili and Cole squashed these by showing some PDA on the red carpet. The event? The premiere of Cole's new movie Five Feet Apart.
July 2019
After months of sharing cute pictures and being more open about their relationship, it's reported that Lili and Cole have split. Us Weekly reported that the two stayed well away from each other at a Comic Con party. Reporting that Cole allegedly told a friend that he and Lili were over. Cole left the party with his co-stars KJ Apa and Cami Mendes, not Lili.
The two seemed to be getting on at the panel for Riverdale, so fans speculated if they had broken up it looked like they were going to be friends.
However, a few days later, Lili came back with this:
Don't believe everything you read on the internet, kids. And news sources should try a little harder to be less vile. "Reliable sources" can kiss my ass.
🙏🏻

— Lili Reinhart (@lilireinhart) July 25, 2019
October 2019
Cole shared a photo of Lili in this dress to his Instagram story with the caption "This is me braging." And tbh, we don't blame him!
February 2020
Fans of the couple start to freak out when it looks like they've unfollowed each other on Instagram. Lili later said it was a glitch on the site… In hindsight, do we believe this?
April 2020
This is when stuff starts to get intense. It's rumoured that Cole has allegedly cheated on Lili with model Kaia Gerber, as it appeared the two were quarantining together. Cole is having none of this though and took to his Instagram stories to condemn those spreading these rumours, and feeling entitled to know what's going on in his private life.
Lili and Kaia didn't appear to comment on this snippet of Cole and Lili's relationship timeline. However, on the same day Cole ranted on his Instagram. Lili posted the following:
"Dear everyone on social media, don't put people down for the sake of putting them down. Don't be a f*cking asshole. The world doesn't need anymore of that sh*t."
Yikes! Knowing what we know now, it could be very possible that this is in relation to the cheating rumours.
May 2020
#ColeSprouseIsOverParty trends on Twitter. Lili addresses the hashtag, telling people that "this is why people choose to keep their relationships private."
Later that month, Skeet Ulrich was asked in an IG Live if he thought Lili and Cole are a cute couple, to which we replied "I think they were a very cute couple." His girlfriend, also in the video, repeated this. Emphasis on the were!! This sends fans into a frenzy.
August 2020
Whilst the two were reported to have split in April, with a source claiming the distance between the two throughout quarantine was the cause, this month saw Cole comment on the end of the relationship for the first time. He posted this on Instagram:
Lili and I initially separated in January of this year, deciding to more permanently split in March. What an incredible experience I had, I'll always feel lucky and cherish that I had the chance to fall in love. I wish her nothing but the utmost love and happiness moving forward. All I'll say about it, anything else you hear doesn't matter. Also her movie comes out soon! I'm sure she's just as incredible in it as everything else she does. Thanks guys ❤️

A post shared by Cole Sprouse (@colesprouse) on
I'm not crying, you're crying… That caption though! A source told E! News back in April that they suspected the couple would get back together once Riverdale started filming again. They also said the two weren't interested in dating anyone else. And to be honest, after looking at this timeline of Cole and Lili's relationship we really hope they rekindle their relationship now that Riverdale season 5 is in production!