YouTubers We Are Absolutely Loving!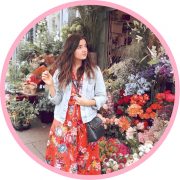 Sometimes we get stuck in our ways when it comes to watching the same YouTubers over and over again, so we devised a list of our fave YouTubers as of late. Check them out and add a new face or two to your subscription box!
Aspyn Ovard
Aspyn is a sweetheart. She puts so much work into her YouTube videos. From the cinematography to the concepts of her videos, they're a joy to watch. We especially love her "Back To School" videos, they make the idea a lot more bearable! Her Insta feed is also a thing of dreams. If you're looking for aesthetically pleasing content, this is your gal.
Claudia Sulewski
Living the dream in LA, Claudia comes across as a down to earth, go-getter. Her YouTube videos are fun and shot beautifully, we especially love her fashion based content, this girl knows how to dress! Claudia has also turned her hand to acting, starring in few Awesomeness TV (another YouTube channel) productions.

Lily Melrose
If you love edgy style you will love Lily and her fashion content. We're finding ourselves looking forward to her latest haul videos. Lily manages to find the best pieces on the high street! Her videos are really nicely edited, you can tell she puts a lot of effort into her YouTube content. She has a lovely personality that really shines through, she's not afraid to be herself and dress how she wants. Wecould all take a leaf out of Lily's book!
Lucy And Lydia
We love to watch these gals if we're ever having one of those days. They will instantly cheer you up! Lucy and Lydia are twins living their best lives in London. They're super sweet and you're guaranteed to be in a good mood after watching their videos. Lucy & Lydia produce AMAZING content! They're videos are top notch. We especially love their Disney Vlogs! The cutest twins on YouTube is you ask us!
Melanie Murphy
Melanie is an author, short film maker and overall amazing gal! Her videos touch on a broad range of topics from lifestyle, to sexuality and health, to food. Melanie is an accomplished lady taking the YouTube world by storm. We love her content because she doesn't shy away from important issues. Even if the issues are a bit controversial, Melanie doesn't shy away and speaks her mind. A true inspiration to young people!

Katie Snooks
If you're into genuine YouTubers who's personalities come across on-screen then you NEED Katie in your subscription box. We don't think there's a YouTuber out there like her. Living in London, Katie's weekly vlogs are a highlight of our week! Katie shares a lot of her life, and includes her viewers in a way that will make you feel as though you're the best of friends. We love her fashion sense, and her beyond cute relationship with her lovely parents whom she features a lot (yay!)
Which Youtubers are you loving?